Senior Producer (f/m/x)
We are looking for a full-time Senior Producer to work on-site in Vienna, Austria. You'll support our production team, managing work-for-hire projects and our very own development (such as The Flower Collectors or other unannounced projects) alike. Read on below for details!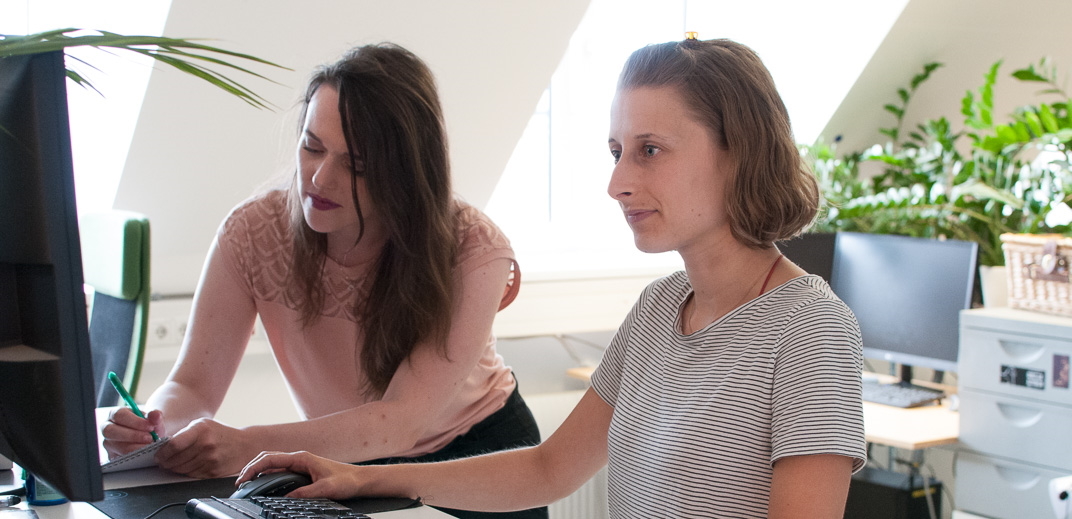 Requirements
To us, there are only three requirements:
☐ You have read our introduction,
☐ You are willing to work with us
☐ You are able to work with us
Only you can tell if you meet the former, and only working with you can tell us about the latter. Before we get a chance to try, there are few indicators of whether we'll be a good fit for each other:
You are comfortable managing in-house projects based on our own intellectual property as well as coordinating work for hire projects with international partner companies. Your daily routines include creating and maintaining project schedules and milestones for pre-production, production and post-launch releases. This is accomplished by collaborating with department leads on a daily basis. In turn, this allows you to support company management with time and budget estimates for your project(s).
Organized and structured working is a matter of personal importance to you. You are proactively working towards establishing systems for planning, measuring, and reporting project progress. In doing so, you will coordinate internal teams, breaking down projects into measurable goals for each department or individual and follow up on these goals regularly.
Being the center of communication comes natural to you. You will work closely with different external partners and internal teams, acting as the natural first point of contact for both. Your ability to read between the lines helps you actively seek out and solve communication hurdles between teams or individuals. Your written and verbal communication is guided by diligence, a desire for clarity and empathy.
You are curious and inquisitive. We don't expect you to know everything, but we expect a willingness to stay up to date on project management methodologies, game development workflows and techniques to hone your skills.
You are familiar with workflows and processes in game development. Equipped with this knowledge, you strive to pro-actively identify, manage, and mitigate project risks. In doing so, you help teams understand and act according to the creative director's vision for their project.
You have at least 5 years of experience in project management and are able to show us at least one shipped title on either mobile, PC or console. This feeds into your willingness to help less experienced members of the production team. We are all about helping people actualize their ambitions and as a senior, you understand your role in supporting and guiding others.
Unless there is an unprecedented global virus pandemic, you enjoy travelling and meeting people.
Even though English is our official language, informal office conversation will sometimes happen in German. People will readily switch to English if you can't follow. Communication with external partners is almost exclusively English.
Compensation & perks
For 38.5 hours a week we offer a minimum gross salary of € 49.000,- per year for applicants with at least 5 years of relevant experience. Your salary beyond that is negotiable, depending on your professional experience and qualification.
On top of that, we offer the following perks:
Spend one paid day per month on personal training and learning
Flexible working hours (core office hours 10:00h-16:00h)
Liberal home-office policy
Paid overtime (no all-inclusive contracts)
25 days of paid vacation (guaranteed by labor law) and around ten public holidays per year
Monthly get-togethers with free drinks
Free weekly Yoga classes (currently via remote video)
Monthly on-site massages for a reduced price (currently on hiatus over COVID concerns)
Free coffee, tea, soda and fruit
Challenges
Working in a varied and dynamic environment, it is tough to properly convey in general terms what your job will be like. Therefore, we'd like to give you a couple of examples of situations you may encounter. Think about what's the challenge in each, how they make you feel, how you'd deal with them swiftly or how you'd need to grow in order to handle them competently.
A publisher wants us to create a platform port for an existing game after their initial developer withdrew from the project. You're asked to consult with Engineering and Content department leads to determine if and how it can be done.
A Mi'pu'mi-Day project is advancing to a limited pre-production stage. You're asked to establish a way forward with company management and project champions on-board.
You have trouble clicking with a person leading a department on your project. You sense this is hampering project progress.
We seek to contract out trailer production on an unannounced project to show to publishers at an upcoming trade show.
A member of your team is slow to respond and irritable in written communication.
The art department is behind schedule delivering assets for a scene. Lots of dependent tasks are stalling due to this.
Game development is a collaborative process. If you want to solve these challenges with us, we must be able to have a fruitful conversation about them. What's your approach? What questions do we need to answer together? How do we go about getting those answers? How lucky are we to be in a situation where we can even talk about these things? :)
Ready for applying?
Please send an email to jobs@mipumi.com explaining why you would like to work with us and what you can do!
Please don't forget linking to your portfolio!