Project Manager (f/m/x)
We are looking for a full-time Project Manager to work on-site in Vienna, Austria. You'll support our production team, managing work-for-hire projects and our very own development (such as Howl or other unannounced projects). Read on below for details!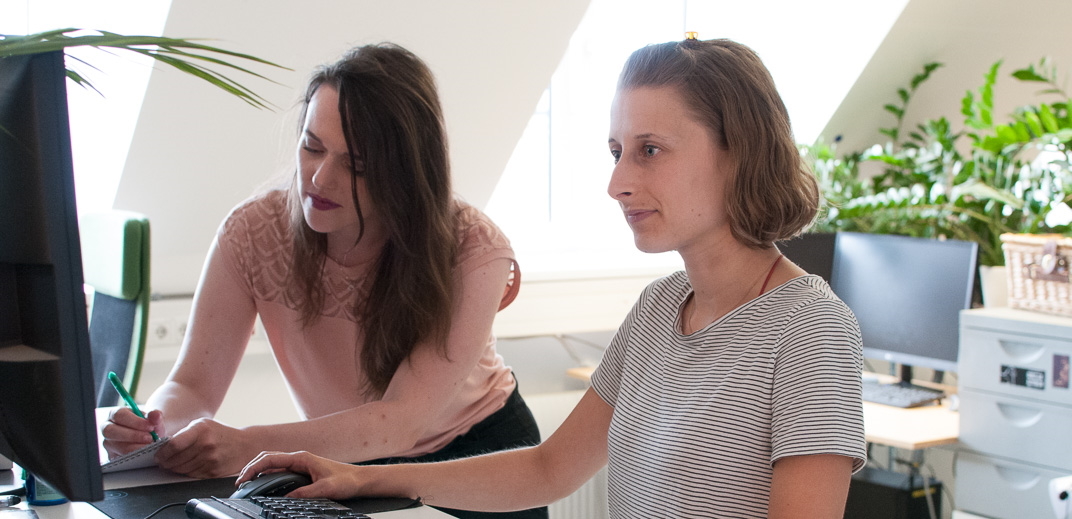 This is what you do
As a project manager at Mi'pu'mi, you are the person responsible for a project coming together. Supported by our board of directors, you pro-actively reflect on our creative ambitions and their feasibility to plan accordingly and ensure your teams deliver the best possible product - on time and on budget.
This includes shaping products, starting with game concepts from Mi'pu'mi Days, setting up all the necessary planning to take them through internal and external stage gates, supporting our directors in maintaining a strong identity throughout all our products and accounting for the creation of quality PR materials.
For this to happen, you identify and itemize explicit and implicit requirements, plan for the people, time and budget needed and consider the trade-offs involved. Of course, none of this happens in a vacuum, so you can look forward to support from designers, artists and technicians on your teams, but make no mistake: Even the most experienced developers occasionally lose track of project priorities and boundaries. It's on you to recognize this and make a constructive, positive case for reigning in the rampant creativity to get your team back on track. Or better yet, know the signs and prevent the rabbit-holing altogether. Throughout all of this, you'll be adjusting schedules and accounting for the consequences as you go along.
Some projects require reporting to and gathering feedback from external stakeholders. In those cases, you're the enforcer of due process - proactively shielding your teams from spurious requests while managing expectations and giving our clients confidence that their wants and concerns are well cared-for.
When a project needs external help, you're the one finding and approaching independent partners and help negotiate availability and compensation. You facilitate review and approval through colleagues in the respective fields and, finally, make sure nothing is blocking our cherished partners from getting paid on time.
Aligning with Mi'pu'mi's production director on bigger-picture topics regularly rounds out your responsibilities. This includes knowing which topics to handle autonomously and what to escalate before it becomes a problem.
While some of the time, you'll be able to dedicate all your attention to just one project of 5-10 people, the more likely case is you managing two smaller projects of 3-5 simultaneously. Therefore, organizing your projects efficiently is very important: You can't spend most of your own time on project hygiene.
Some of what you'll see
Working in a varied and dynamic environment, it is tough to properly convey in general terms what your job will be like. Therefore, we'd like to give you a couple of examples of situations you may encounter:
A publisher wants us to create a platform port for an existing game after their initial developer withdrew from the project. You're asked to consult with Engineering and Content department leads to determine if and how it can be done.
A Mi'pu'mi-Day project is advancing to a limited pre-production stage. You're asked to establish a way forward with company management and project champions on-board.
You have trouble clicking with a person leading a department on your project. You sense this is hampering project progress.
We seek to contract out trailer production on an unannounced project to show to publishers at an upcoming trade show.
A member of your team is slow to respond and irritable in written communication.
The art department is behind schedule delivering assets for a scene. Lots of dependent tasks are stalling due to this.
There are lots of unforeseen absences on one of your projects.
Here's what you bring
Organized and structured work is a matter of personal importance to you. You like proactively establishing systems for planning, measuring and reporting project progress.
Being the center of your teams comes natural to you. Your ability to read between the lines helps you actively seek out and impediments and regularly check in on individuals. Your written and verbal communication is guided by empathy, diligence and a desire for clarity.
You are curious and inquisitive. We don't expect you to know everything, but we expect a willingness to keep honing your skills on the job: Project management methodologies, game development workflows and techniques, the lot.
You are familiar with workflows and processes in software development and or creative projects. Equipped with this knowledge, you strive to pro-actively identify, mitigate and manage project risks.
You have at least three years of experience in project management or professional team leadership and are able to talk to us in detail about at least one completed project.
You understand your role in supporting and guiding others, leading by example, recognizing mental blocks on your teams and effectively dealing with or escalating these topics where necessary.
Job postings often underscore how important it is to have a passion for video games, presumably as a means to depress worker wages. When we talk about passion, we mean: Knowing what the medium can do. Wanting to make the most of our opportunity to speak to people. Genuinely and personally caring about delivering a quality product.
Unless there is an unprecedented global virus pandemic, you enjoy traveling and meeting people.
Even though English is our official company language, informal office conversation can sometimes happen in German. People will readily switch to English when you get involved. Communication with external partners is almost exclusively in English.
We understand the above can feel like a tall order. And though we are deeply committed to learning and growing together, we feel it necessary to say this role doesn't only ask for skills, it asks for confidence. Add a healthy but not overbearing dose of self-reflection and any team should consider itself lucky to have you. And if anything about us spoke to you, we'd love to be that team!
Compensation & perks
If you have three years of relevant professional experience, you can look forward to an annual gross salary of €49.000,-. If you have fewer, more or other additional qualifications, an adjustment can be negotiated. This covers 38.5 hours a week.
On top of that, we offer the following perks:
Spend one paid day per month on personal training and learning
Flexible working hours (core office hours 10:00h-16:00h)
Liberal remote-office policy
Paid overtime (no all-inclusive contracts)
25 days of paid vacation (guaranteed by labor law) and around ten public holidays per year
Free weekly Yoga classes (currently via remote video)
German classes for Beginners
Monthly get-togethers with free drinks
Free coffee, tea, soda and fruit
Regular free lunches prepared onsite from our beloved friends from Asian fusion restaurant ra'mien.
In case needed, relocation and settling in support from our experienced staff team
Ready for applying?
Please send an email to jobs@mipumi.com explaining why you would like to work with us and what you can do!
Please don't forget linking to your portfolio!