Production Director (f/m/x)
We are looking for a full-time Production Director to work on-site in Vienna, Austria. You'll lead our production team, overseeing all projects at the company, including work-for-hire projects and our very own development (such as The Flower Collectors or other unannounced projects). Read on below for details!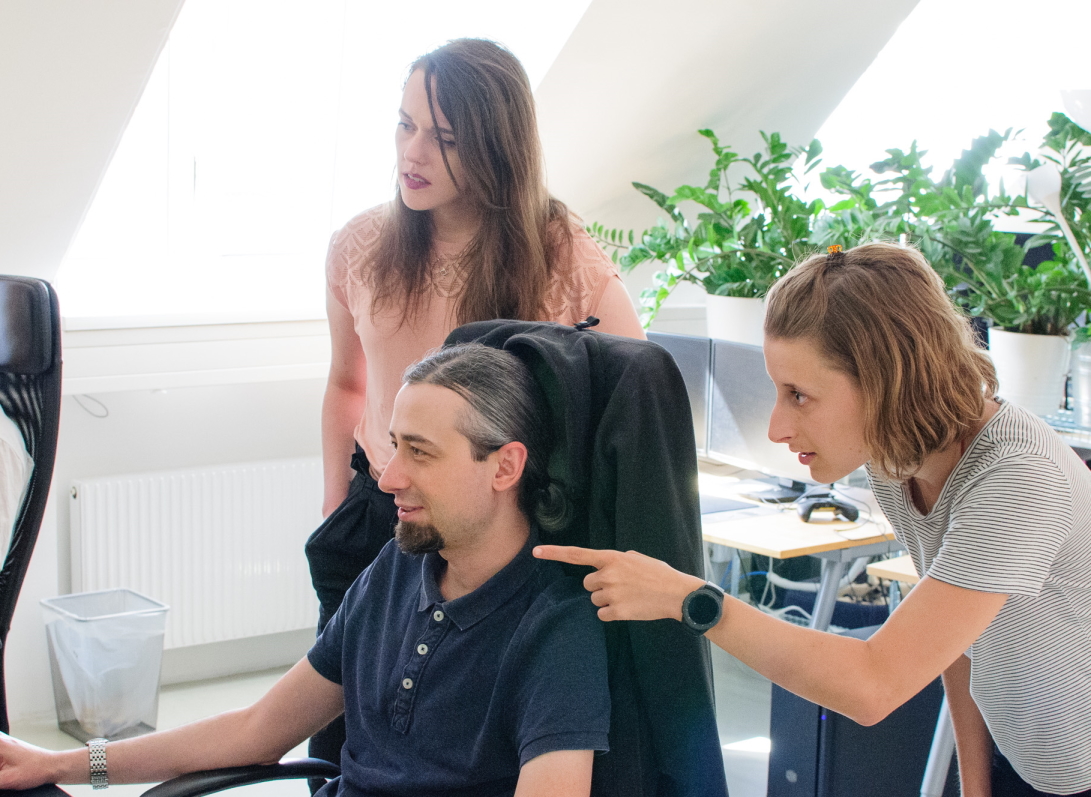 Requirements
We don't usually tout stringent requirements for positions. We believe in people defying our expectations and finding their own ways to be effective. In this specific case, it would be delusional to say that there aren't any hard requirements. However, instead of harping on bullet-points we would like to try and describe what kind of person we imagine would absolutely rock this role. Consider this a love letter to that imaginary person and if that happens to be you - You have our number! Will you give us a call, please?
You are comfortable managing projects based on our own intellectual property as well as coordinating work for hire projects with international partner companies. Your high-level objectives include guiding, coordinating and reviewing the work of your team of producers and QA managers. This is accomplished by collaborating with them on a daily basis and reminding them to question what they do and why - while never losing sight of company goals.
Organized and structured working is a matter of personal importance to you. You are proactively working towards not only establishing systems for planning, measuring, and reporting project progress, but also constantly refining them. In doing so, you will coordinate your teams and report their status, progress and development outlook to company management.
Being the center of communication comes natural to you. You work closely with different external partners and internal teams, acting as the natural first point of contact for both. Your ability to read between the lines helps you actively seek out and solve communication hurdles between teams or individuals. Your written and verbal communication is guided by diligence, a desire for clarity and empathy.
You are very familiar with workflows and processes in game development. Equipped with this knowledge, you strive to pro-actively identify, manage, and mitigate organization risks. In doing so, you help teams understand and act according to the creative director's vision for their project.
Numbers don't scare you. Be it development budgets, time estimates, sales forecasts, profit and loss calculations - you've got what it takes to make them work for our benefit.
You are curious and inquisitive. You don't necessarily know everything, you are willing to stay up to date on project management methodologies, game development and quality assurance workflows and techniques to hone your skills. In addition to that, you actively seek the kind of feedback that you need to constantly become better at everything you do. What sets you apart is your ability tap into these personal growth-experiences to coach your team effectively and empathically.
You have at least 5 years of experience in project management and have facilitated the shipping of several game projects, at least one of them on a current generation console platform. This feeds into your ability to question and guide the production team. We are all about helping people actualize their ambitions and as a senior, you understand your role in supporting and guiding others.
When situations call for it, you are both a confident leader and a humble team player. This ideal informs your actions during personnel responsibility, such as participating in the hiring process, having frequent appraisal talks with your reports who include producers, QA managers and other supporting roles.
Unless there is an unprecedented global virus pandemic, you enjoy travelling and meeting people.
Even though English is our official language, informal office conversation will sometimes happen in German. People will readily switch to English if you can't follow. Communication with external partners is almost exclusively English.
Compensation & perks
For 38.5 hours a week we offer a minimum gross salary of € 51.000,- per year for applicants with at least 5 years of relevant experience. Your salary beyond that is negotiable, depending on your professional experience and qualification.
On top of that, we offer the following perks:
Spend one paid day per month on personal training and learning
Flexible working hours (core office hours 10:00h-16:00h)
Liberal home-office policy
Paid overtime (no all-inclusive contracts)
25 days of paid vacation (guaranteed by labor law) and around ten public holidays per year
Monthly get-togethers with free drinks
Free weekly Yoga classes (currently via remote video)
Monthly on-site massages for a reduced price (currently on hiatus over COVID concerns)
Free coffee, tea, soda and fruit
Challenges
Working in a varied and dynamic environment, it is tough to properly convey in general terms what your job will be like. Therefore, we'd like to give you a couple of examples of situations you may encounter. Think about what's the challenge in each, how they make you feel, how you'd deal with them swiftly or how you'd need to grow in order to handle them competently.
Certain people and their roles are shared between many projects.
Workflows involving external vendors such as contacting, ordering, feedback and approval have grown over time and are different on every project. Company management would like to clear up and unify them.
Some projects inevitably end up being perceived "way cooler" than others.
A colleague is reluctant to delegate responsibility. You get the feeling they can't keep going under the resulting workload.
Game development is a collaborative process. If you want to solve these challenges with us, we must be able to have a fruitful conversation about them. What's your approach? What questions do we need to answer together? How do we go about getting those answers? How lucky are we to be in a situation where we can even talk about these things? :)
Ready for applying?
Please send an email to jobs@mipumi.com explaining why you would like to work with us and what you can do!
Please don't forget linking to your portfolio!