Lead Digital Artist (f/m/x)
We are looking for a full-time Digital Artist to support our content department. You will be working closely with our Creative Director and lead a team of artists while collaborating with designers and engineers here in Vienna.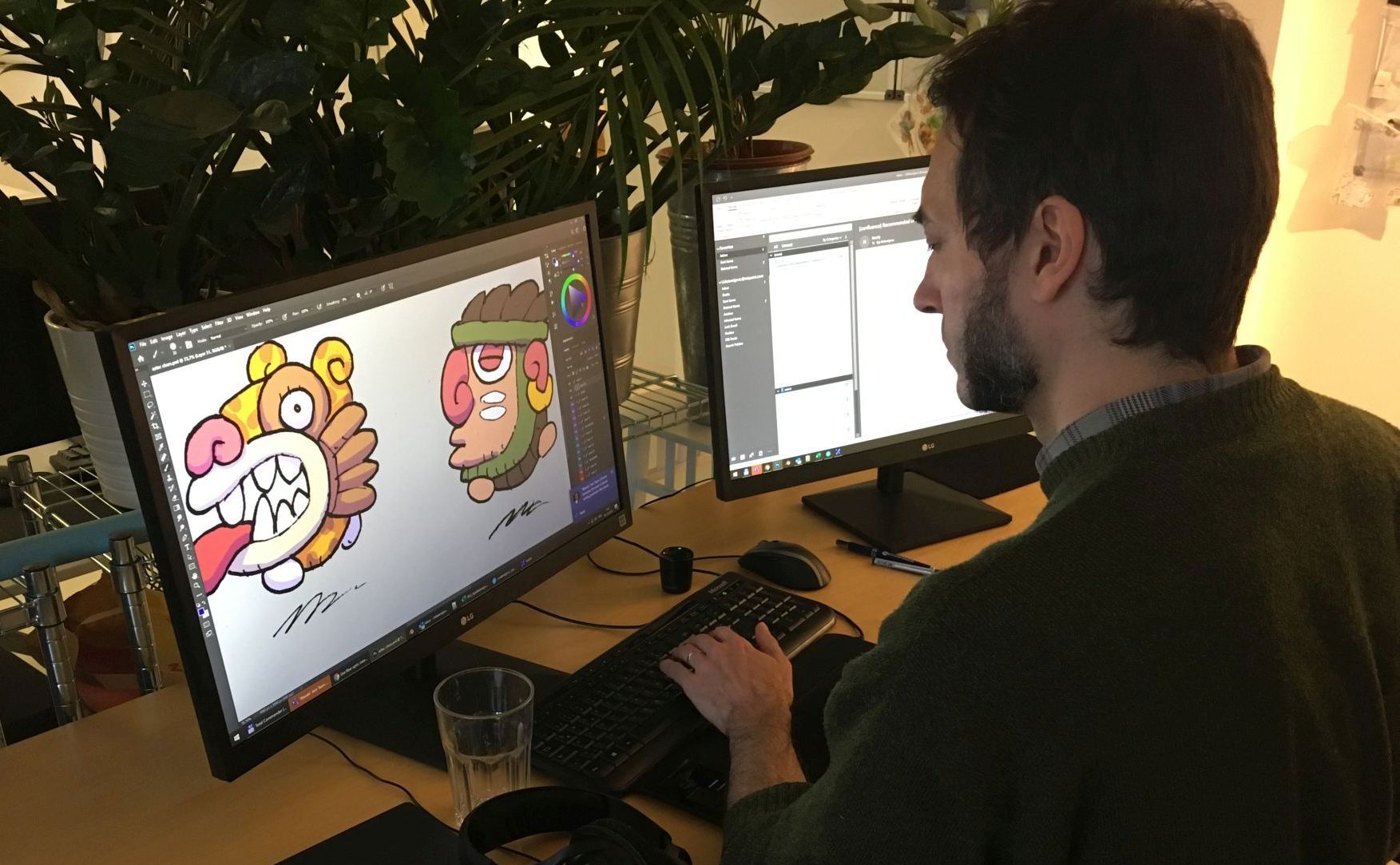 The Role
At Mi'pu'mi we want to build games that stay with our players for a long time. And while art is an important factor in that endeavour, we believe that it is in the interplay of all disciplines - the aesthetics - where games really start to shine a lasting light.
For a small studio like us, finding constraints and dealing with them effectively is essential. But instead of seeking to eliminate them, we embrace them - and leverage them into experiences that will make players smile.
Closely collaborating with our Creative Director, Art Director, designers and sometimes even engineers, you develop an understanding of a project's vision and find ways to convey it visually, always seeking to elevate the product.
Please be sure to have read our general introduction. While some technical or artistic aspects may not apply to this position, we think it can help give you a feeling for the kind of environment you are getting into :)
Here's what you do
When talking to directors or designers, your goal is to understand their vision and ideas so you can communicate them visually, employing any technique and medium necessary - be it montages, paint-overs, thumbnails, storyboards or napkin sketches. Your target audience includes colleagues, external development partners, publishers and ultimately players.
You create artworks in 2D and 3D media using a wide variety of tools and pipelines. Your daily work covers the full spectrum: concepts, drafts, in-game art, pitching materials and marketing assets. Oftentimes you need to integrate your material in game engines, video, web or print to make the most of it.
We strive to work towards deliberate and explicit goals. To that end, you are setting goals for your team and provide reasonable time estimates for a wide variety of tasks. You need to think pragmatically and find ways to make the most of any given timebox. This includes knowing your team's limits and speaking up when you think something can't be done.
You are the natural first point of contact when your team needs clarification, feedback or mentoring. Likewise, when we work with external art vendors your involvement spans the whole cycle from briefing to review to feedback.
Here's what you bring
We know that stringent requirements can be intimidating when applying for a job. We don't want to alienate promising candidates with pretentious-sounding words - Ultimately, we'd love for you to make the role your own. However, there is a couple of tools you can bring to make that process easier:
You have internalized that critical feedback is essential in delivering a convincing product. It's never your taste, ego or personality that is being scrutinized but the output of our joint creative efforts. Therefore, you always strive for improving your process by pro-actively asking for, receiving and acting on critical feedback. When people struggle to voice their feelings in constructive ways, you are prepared to ask selfless questions and read between the lines.
Sometimes, we may find that the direction or specification wasn't quite there yet. We need you to be able to recognize and communicate issues as they approach. You understand that in a collaborative environment, voicing concerns is never about assigning blame - It's always about finding a way forward. Consequently, you are not easily discouraged when your or somebody else's work needs more iterations.
Collaborating with diverse teams, you communicate clearly and precisely, both written and verbally, in English. Your understanding and empathy for other points of view is paired with the ability to make a convincing positive case for your own ideas.
You are familiar with digital illustration, graphic design, 3D modelling and texturing and the use of tools like Photoshop, Illustrator, Maya or Blender. Other people will frequently interact with your assets, so you need to understand best practices for keeping project files clean and find effective pipeline-, version control- and export settings.
Sharing our commitment and passion, you have a strong appreciation and interest for video games. You play and observe to know what's out there. This helps you maintain a perspective about what others in the field can achieve using the same tools as you.
As you can imagine, it's very hard to gauge all these aspects objectively. Having been involved in at least one shipped game on PC, console or mobile platforms and being able to talk about the process confidently makes it significantly easier for us to get an understanding and appreciation of your prowess.
As much as this page mentions understanding and executing on other people's ideas - It's your very own desire to express yourself creatively that matters, and we are looking forward to embrace and develop it!
Compensation & perks
If you have three years of relevant professional experience, you can look forward to an annual gross salary of €54.600,-. If you have fewer, more or other relevant qualifications, an adjustment can be negotiated. This covers 38.5 hours a week.
On top of that, we offer the following perks:
Spend one paid day per month on personal training and learning
Flexible working hours (core office hours 10:00h-16:00h)
Liberal remote-office policy
Paid overtime (no all-inclusive contracts)
25 days of paid vacation (guaranteed by labor law) and around ten public holidays per year
Monthly get-togethers with free drinks
Free weekly Yoga classes (currently via remote video)
Monthly on-site massages for a reduced price (currently on hiatus over COVID concerns)
Free coffee, tea, soda and fruit
Ready for applying?
Please send an email to jobs@mipumi.com explaining why you would like to work with us and what you can do!
Please don't forget linking to your portfolio!