Open Positions
At Mi'pu'mi, people of varied backgrounds and experience levels collaborate with each other. Whether you are a seasoned developer, fresh graduate or motivated Hobbyist – we are committed to building, sharing and growing with you.
Do you want to...
apply your skills across a wide range of cultural, creative and technical challenges?
live in Vienna, a city in the heart of Europe and one that is regarded as one of the World's most livable cities?
work with companies and team mates from all over Europe, constantly deepening your experience and widening your horizon?
be fairly compensated and feel trusted and valued as a human?
Do not hesitate to contact us - Regardless of whether or not your profile fits one of the openings below!
If you want to know more about what it's like to work with us, read on after the break.
What we do: "More Than Games"
The meaning of this tag-line is two-fold for us:
On the one hand, it means we consider the games we do work on literally "More than games"... Especially with our own projects, we want to maintain creative ownership and responsibility. We want to create engaging interactive experiences for people interested in richly diverse content, in questioning preconceptions and furthering their horizon.
On the other hand, it means we don't only work in games. We have applied our skills to satisfy needs as diverse as technical consulting, design consulting, illustration and graphic design, creating software tools both for use inside and outside the games industry, optimizing software infrastructure - even designing hardware assemblies for art installations and kiosks.

Whatever we do, we aim to immerse ourselves fully and to become experts in that field until it is time to move on to the next project. We take with us know-how and experience while leaving behind quality products and satisfied partners, eager to work with us again.
How we do it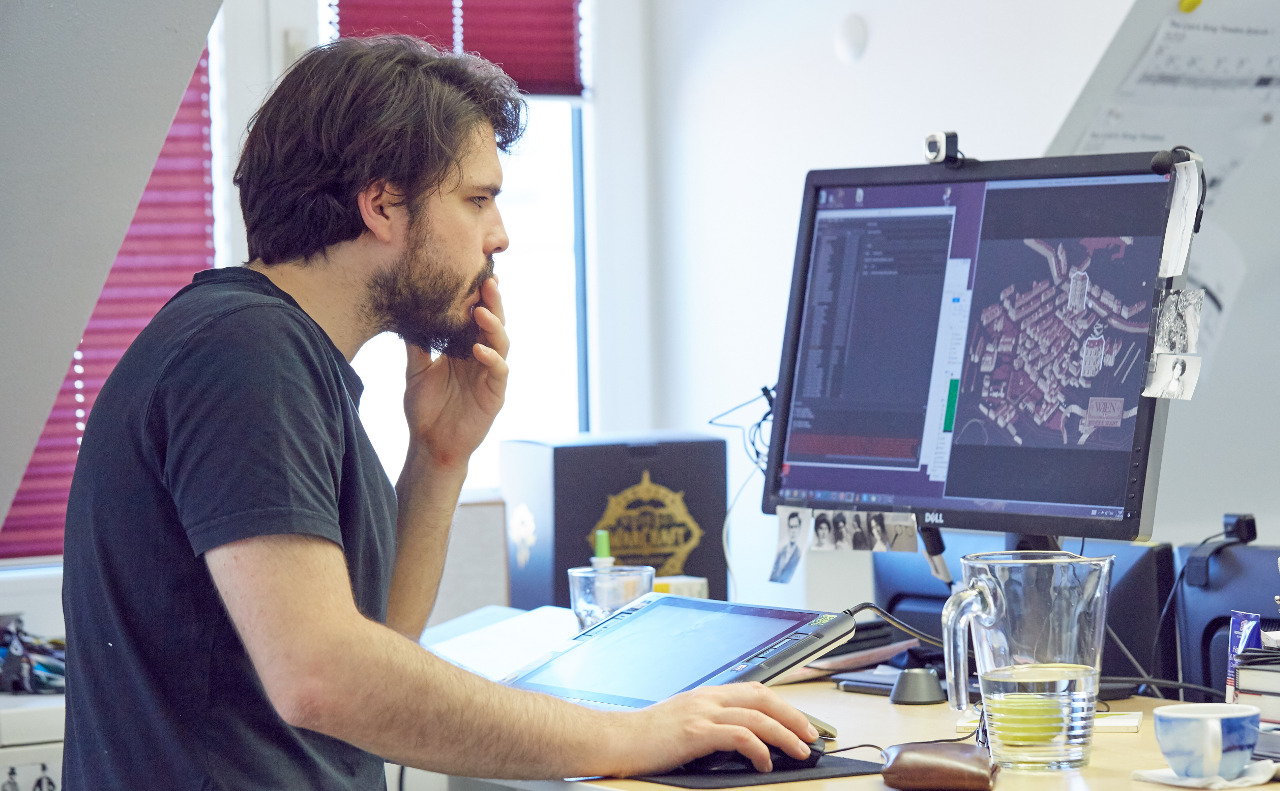 To us, being professional means to be dedicated to our craft, on top of our tools and to recognize quality in our respective fields.
To accomplish this, we constantly muse and tinker. We experiment, we evaluate and we learn. In doing so, we want to deliver the best possible work – on time and on budget. And although we strive for excellence, we are not Rockstars, Cowboys or Ninjas - we are professionals.
We believe in listening as well as in speaking our minds. Having strong opinions is well and good, if we stay honest and polite - as long as we are prepared to question our assumptions and reconsider our stances.
Many of us have worked various jobs inside and outside the games industry. As individuals, we have struggled and we have crunched - some of us excessively. We have experienced the invigorating rush but also the mind-numbing churn. Therefore, never demanding or tolerating excessive overtime is of utmost importance to us. Thinking ahead, knowing our weaknesses and rigorous planning allow us to steer clear of prolonged crunch.
And where we do slip up, we make sure to compensate fairly.

What we seek
We understand that what constitutes us is neither our clients nor our products. At the heart of our every endeavor are the people that work with us. And if you connect with anything written above, this might soon include you!

Are you...
...as curious as you are inventive?
...eager to attain and share knowledge?
...conscious of your weaknesses?
...not easily discouraged by hardship or failure?
...mindful of your own and other people's time?

Do you...
...constantly evaluate what you are doing and why?
...rigorously train and apply your skills?
...seek to expand your horizon and question your preconceptions?
...want to further games as a medium of artistic expression?
...have a concerning affinity for bad puns?
Don't be intimidated by this list! It is meant to speak to not only future colleagues, but also to present ones. To summarize who we are. And to remind us of what we aspire to be.
We are not perfect and we don't expect you to be. Unless an open position states otherwise, we also do not expect you to be an expert. What we do ask of you is the willingness to become an expert when the circumstances require. We want you to learn and grow with us - while delivering solid artistic and technical solutions to real challenges – More Than Games.

What we offer
You'll get the opportunity to work on varied and challenging projects with international partners, big brands and cutting-edge technology – and with it the chance to travel interesting places and meet lots of people. Yet at the same time, you can participate in these international projects without the need to go abroad for extended periods of time.
Which is good, because if you are not here already, consider joining us in Vienna, one of the world's most livable cities! On top of being one of Europe's cultural Hot-Spots, Vienna is also well connected to the rest of Europe and perfectly accessible via cheap (and timely!) public transportation. Vienna is at the heart of Europe and next to being one of the most pleasant cities to live in, Vienna is one of the safest cities in the world, with a very good social system and favorable labor law for employees.

Join us
...and work with some of the nicest people you'll ever meet, in a truly international environment with English as main company language.
Mi'pu'mi brings together people from lots of educational backgrounds and professional experience levels. Whether you are a seasoned developer, fresh graduate or motivated Hobbyist – we are committed to building, sharing and growing.
So committed in fact, we dedicate one day a month to everybody's personal development.
You are encouraged to use this so-called Mi'pu'mi day to learn new things on your own, stay up-to-date with latest technology or collaborate with others on your own game ideas.
This opportunity has spawned government-grant-winning project pitches, impromptu programming- or management seminars held by our colleagues, light-speed porting projects of our existing products and all kinds of creative shenanigans.
It cannot be said too often: Crunch in the Games Industry is a real issue - one we take seriously. We do not offer "All Inclusive"-contracts. Every hour you spend applying your skill and passion will be accounted for and remunerated.
We trust you, be it about managing your flexible working hours or finding ways to apply yourself when you are not actively being managed. This extends into being as transparent about business development as possible. We have monthly all-hands meetings and newsletters where we discuss opportunities and potential upcoming projects and encourage you to let us know how you'd like to help.
We also trust you to help us take care of the free coffee and fruit before the fruit flies do ;)
Open Positions
Do not hesitate to contact us - Regardless of whether or not your profile fits one of the openings below!